Vegetarian Beet Burgers with Avocado and Sweet Potato Fries
Beet Burgers. however not simply unspecified beet burger, you guys. This area unit like WHOA. These eater beet burgers area unit is full of freekeh, quinoa, oats, garbanzo beans, onion, and a full bunch of alternative great things.
And then I took these already impressive green groceries power burgers to successive level. I sandwiched them between a cracker breadstuff (SO GOOD) and flat-top with homespun baked sweet potato fries, mashed avocado, and small greens.
I virtually cannot wait to form these once more.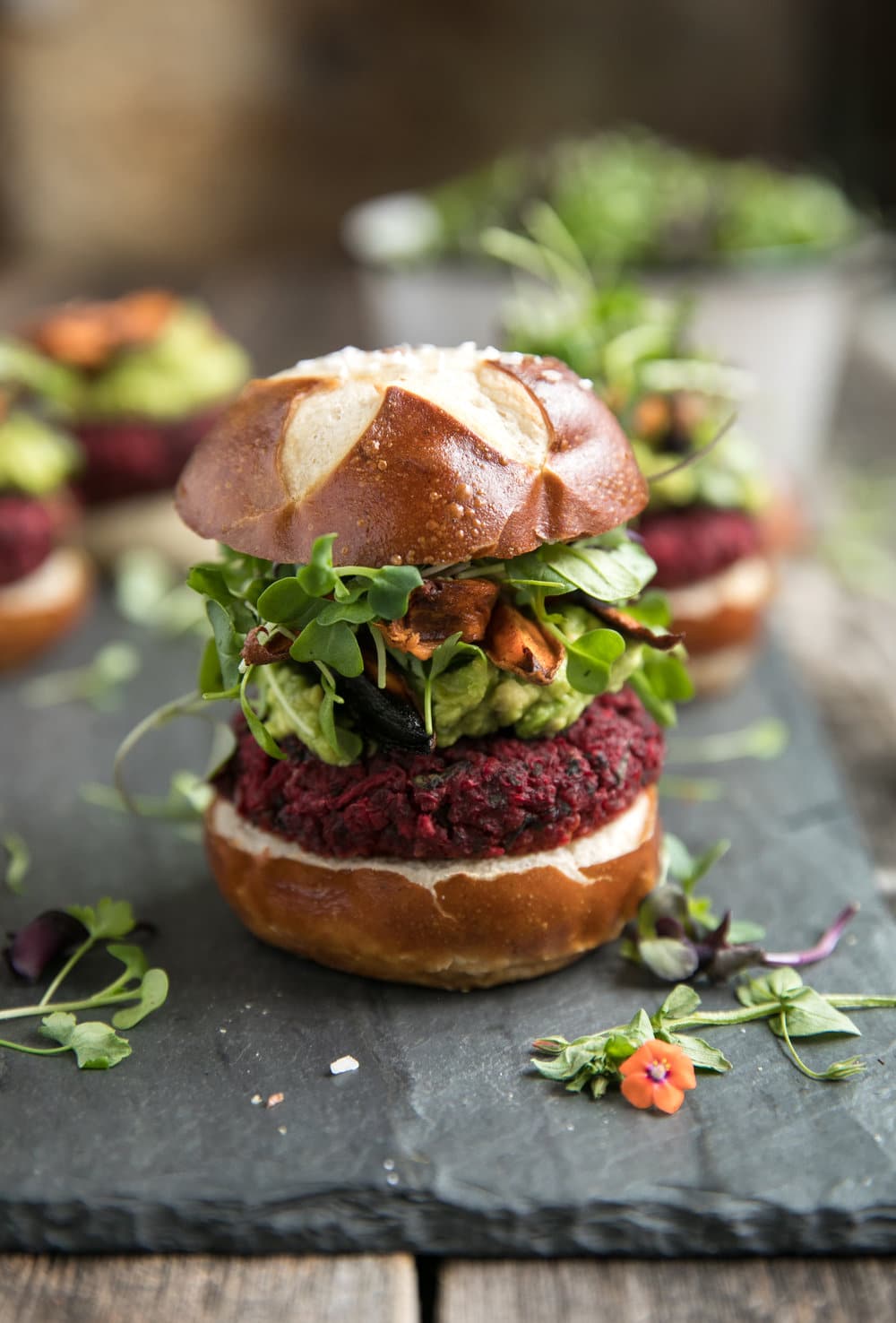 Vegetarian Beet Burgers with Avocado and Sweet Potato Fries
FOR THE BURGERS
1/2 cup cracked freekeh
1/2 cup red or white quinoa
3 large beets – cooked
15 oz chickpeas – 1 can, drained
2 tablespoon tahini
4 cloves garlic – minced
2 tablespoons ginger – freshly grated
1 medium onion – minced
1 orange zested
1/2 cup fresh cilantro – finely chopped
1/2 cup fresh parsley – finely chopped
1 teaspoon chili powder
1/2 teaspoon ground cumin
Generous pinch of salt + pepper
1 egg – beaten
1/3 cup rolled oats
FOR THE SWEET POTATO FRIES
2 sweet potatoes – or yams, chopped into long pieces
1 tablespoon olive oil
1/4 teaspoon cinnamon
1/2 teaspoon salt
1/2 teaspoon fresh cracked pepper
1/2 teaspoon paprika
1/4 teaspoon sugar
FOR THE BURGERS
12 Buns – I used pretzel buns
3.5 oz microgreens – or your favorite greens
2 Avocado – smashed
Instructions
FOR THE VEGETARIAN BEET BURGERS
First prepare the freekeh and quinoa. I cooked these two separately; however, I realized after that they have the exact same cooking method and time, so I am going to assume that they can be cooked in one pot (don't quote me on this though 😉
As the grains cook, roughly chop your beets and add them to a large food processor. Pulse until the beets until chunky. Add the cooked and drained chickpeas and tahini to the beets and process again to mix and mash (but take care not to puree).
In a large mixing bowl add the minced garlic, grated ginger, onion, orange zest, chopped cilantro, parsley, chili powder, cumin, salt and pepper. Mix well to combine. Add the Beet and chickpea mixture, as well as the lightly beaten egg and rolled oats, to the garlic mixture and stir well until fully combined*
Once the freekeh and quinoa have finished cooking and have cooled(!), add to the beet mixture and mix well.
Preheat your oven to 375 degrees F and line a large baking sheet with parchment paper (you may need two baking sheets).
Shape the mixture into patties by hand and carefully transfer to your lined baking sheet.
Bake the patties for approximately 25-30 minutes, or until they have a crisp outer layer (cooking times may vary depending on size of patty).
*If mixture seems particularly wet or soggy, add an additional 1/4 cup rolled oats
FOR THE SWEET POTATO FRIES
Preheat oven to 425 degrees F. Line a large baking sheet with parchment paper and set aside.
In a large mixing bowl toss the cut sweet potatoes with the olive oil and spices to coat. Transfer to your prepared baking sheet and arrange them in a single layer (as best you can, or use two baking sheets). Bake for 25 minutes or until crispy and browning at the edges.
ASSEMBLE
Assemble your burgers. I topped mine with a few sweet potato fries, mashed avocado and microgreens, but feel free to add your favorites!
Nutrition
Nutrition FactsVegetarian
Beet Burgers with Avocado and Sweet Potato Fries
Amount Per Serving
Calories 383 Calories from Fat 99% Daily Value* Fat 11g17% Saturated Fat1g5% Cholesterol 13mg4% Sodium 530mg22% Potassium 467mg13% Carbohydrates 59g20% Fiber 8g32% Sugar 7g8% Protein 12g24% Vitamin A 3520IU70% VitaminC 11.6mg14% Calcium 58mg6% Iron 12.7mg71%* Percent Daily Values are based on a 2000 calorie diet.(Nutrition information provided is an estimate and will vary based on cooking methods and specific brands of ingredients used.)Did you make this recipe?
Enjoy!
Open next page to continue reading
Thank you for continue reading please don't forget to share this article with your friends